Regular price
Sale price
$60.00 USD
Unit price
per
Sale
Wait List
Head in the Clouds is no ordinary hair care line—It is formulated with Source Oils and M-State technology to clean your head, and clear your mind.
A Deeper Dive into the Head in the Clouds Line: 

🌱 A vegan, paraben-free shampoo and conditioner with no added sulfates or phthalates that's suitable for all hair types
💧 Hand-crafted with Source Oils: Essential oils infused with Source Seed technology to have their own, living energetic field
☁️ Blended with the Cloud M-State, fuel for the spirit that amplifies our ability to translate energy into resources
💆‍♀️ A refreshing, hydrating shampoo for the hair, scalp, and body, that includes soothing organic aloe, chamomile, and other organic extracts
💆‍♀️ A milky smooth conditioner handcrafted with organic, nourishing, and natural extracts
Together, these quantum technologies create a threefold magical experience that cleans your head, and clears your mind, helping us connect to the world on a deeper level.
Disclaimer

These products and any health statements have not been evaluated by the Food and Drug Administration and are not intended to diagnose, treat, prevent or cure any disease state. Seek the advice of your qualified and licensed health care practitioner prior to starting any changes in your health regimen.
Share
View full details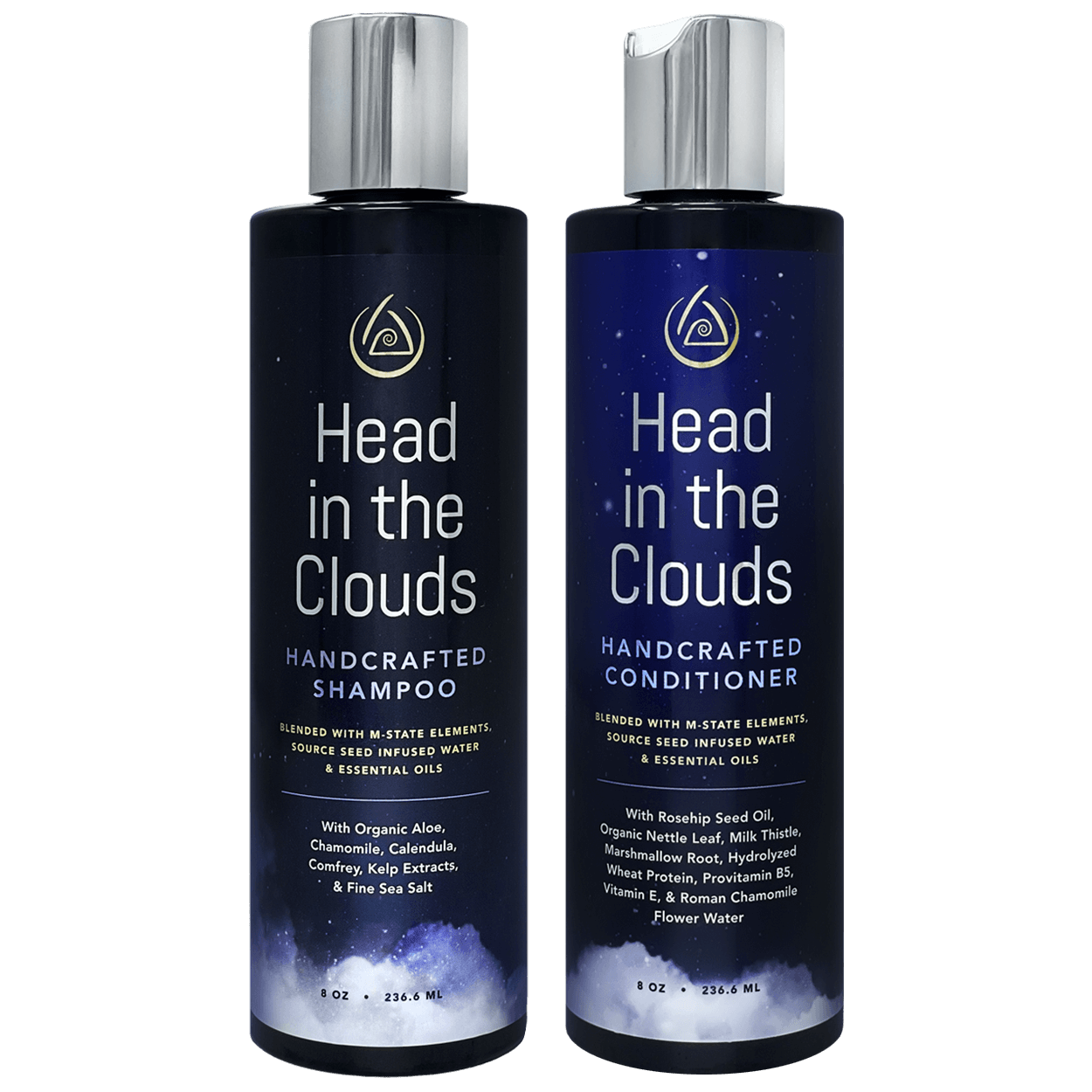 Customer Reviews
09/01/2023
Helga

Iceland
Smells heavenly
My first time using the shampoo and conditioner felt life changing. My hair felt and feels fuller and so alive, its honestly like someone added hair extensions to my head because it feels thicker and so much healthier. I love the smell and also how soft my face and body felt after showering. I love that i don't need to use much of it even if my hair is very long. Love these products.
08/26/2023
Erin R.

United States
I recommend this product
Amazing!!!
I had a lot of itchy scaly spots on my scalp over the past 3 years. After using this shampoo and conditioner (I think around 5 times), all the spots are GONE! My hair is super soft and feels so much healthier. It can't tell you the blessing it is not to have the itching dandruff and looking forward to seeing how my hair responds in the future to this amazing product! Thank you VST team!!! Please not you don't need to use a lot and it doesn't foam much. :) Joyfully!, Erin
08/05/2023
Lara

New Zealand
I recommend this product
A light and expansive hair experience ✨
I just used my head in the clouds for the first time yesterday! It smells amazing! the process of shampooing and conditioning felt joyful in a whole new way! So light ✨ My hair feels a lot stronger and shinier, I've also noticed my curls and the volume seem to have exploded! Like popping popcorn! What a fun and fantastic product! Thank you to Jason Estes and Void Space Technologies for this beautiful Alchemy! ✨
08/04/2023
Skyelar M.

Canada
I recommend this product
I am in Heaven!
The first thing I noticed was the scent of these products - just wow! Each is unique and nothing like I've experienced with shampoo and conditioner before, including my hair washing experience! The shampoo felt like sparkles - didn't need to use much and felt super thorough & nourishing. I didn't need to use much of the conditioner either, which was an usual feeling (I've been endlessly searching for a product that can hydrate my hair!) I didn't want the experience to end! lol But then I began to rinse the conditioner and it felt like an important part of the process! It also felt like a bunch of fairies were rinsing my hair Love love love these products ✨ Thank you VST & Thank you Jason for your alchemy!
08/04/2023
Mary L.

United States
I recommend this product
What a magical way to start your day ❣️
I totally felt like time stood still and moved quickly while shampooing my hair. I have never felt this way before and NEVER shampooing my hair and using this conditioner !!! I will add that I was receiving the HOME activation from Activation Station. My hair is soft and it has gotten darker, thicker and shiny Im looking forward to playing and using this product!!!! PS a little goes a long way and its doesnt get very "soapy"
07/30/2023
Veronica

United States
I recommend this product
Love !
These products are simply wonderful ! From the smell to the feel to the end result ! I love how they feel as I'm washing my hair , and after I love the effect they have on my hair and my spirit ! My hair is smooth and bouncy ! This is now my absolute favorite shampoo ! And the conditioner is amazing! Silky and so moisturizing ! I'm in love with this set Thank you for these products ✨